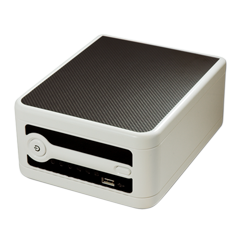 N299
The friendly, unbelievably affordable home NAS device
Wenn Sie Ihre Dokumente, Multimediadaten und sonstige Dateien sicher speichern m?chten und auch per Netzwerk einfach für Familie und Freunde verfügbar machen wollen ist das Thecus N299 die richtige Wahl. Obwohl kaum gr??er als eine externe Festplatte, bietet es doch ausreichend Platz für zwei 3,5" SATA-Festplatten.
Rezensionen
Merkmale
Share Memories and Music
With its built-in photo web server, the N299 allows you to easily share your favorite photos with every client on your network – all through their favorite web browser. And with its iTunes® server, you can share your music with them as well – quickly and easily.
Convenient Downloads
Why keep your entire PC on to complete your downloads? With the N299's download manager, you can schedule your downloads with your favorite protocol. BT, HTTP, and FTP transfers can be completed during off-peak hours, saving time and energy.
True Peace of Mind
The N299 doesn't just help keep your data secure. With its IP cam still image preview and capture, simply plug in a compatible IP cam and the N299 instantly becomes a simple home surveillance system. Best of all, your PC doesn't even have to be powered on!
No More Wires
With USB wireless dongle compatibility, the N299 can be set up for complete wireless access. Access photos, files, movies, and music to wireless clients throughout your home, and experience the true convenience of a wireless file server.
Save it. Store it. Share it. Now you can have it all for less with the N299 from Thecus.
übersicht
Das Thecus N299 ist eine kompakte Storage L?sung mit integriertem Media Server und RAID-Schutz, die sich jeder leisten kann. Dank intelligenter Software ist es m?glich beliebige Dateien und mediale Inhalte auf einfache Weise im Netzwerk zu speichern und abzurufen.
Die intelligente Konstruktion vereint Elektronik und zwei SATA Festplatten in einem kompakten Geh?use, das auf jedem Schreibtisch einen Platz findet. Die Festplatten lassen sich unter anderem im RAID 0 oder RAID 1 Modus betreiben - je nach Bedarf erhalten Sie so die maximale Speicherkapazit?t oder Schutz vor Datenverlust bei Ausfall einer Festplatte.
Der Zugriff mit Gigabit Geschwindigkeit sichert eine zügige Datenübertragung. Mit einem optionalen WLAN-Adapter wird das N299 zum Accesspoint und bietet so auch einen drahtlosen Zugang an.
Egal ob Windows, Mac OS oder Linux - das N299 versteht sich mit allen g?ngigen Betriebssystemen mit Netzwerkunterstützung. Als Zugriffsprotokolle stehen SMB, FTP und HTTP (WebAccess) zur Verfügung. So k?nnen Sie das N299 auch in heterogenen Netzwerkumgebungen ohne Bedenken einsetzen.
Die verfügbaren USB Schnittstellen erlauben z.B. den Anschluss von USB-Sticks. Mit der "One-Button-Copy" Funktion sichern Sie auf Knopfdruck die Daten des angeschlossenen USB Speichers auf die eingebauten Festplatten. Mit dem integrierten Printerserver k?nnen Sie Ihren Drucker (USB) auf einfache Weise im Netzwerk zur gemeinsamen Benutzung Bereitstellen. Zus?tzlich ist es auch m?glich weitere Festplatten per USB 2.0 anzuschlie?en, wenn einmal mehr Speicherplatz ben?tigt wird.
Die umfangreiche Software des Thecus N299 enth?lt einen leistungsf?higen Mediaserver. Der UPnP-kompatible Server stellt Mediadateien zentral im Netzwerk zur Verfügung. Software Player, Internet TV Boxen, IP Set Top Boxen und andere integrierte Media Player (Streaming-Clients) k?nnen so problemlos auf gespeicherte Mediadaten zugreifen. Zus?tzlich bietet das N299 einen ?iTunes Server" der Ihre Musiksammlung allen iTunes kompatiblen Ger?ten per Netzwerk zug?nglich macht. Ihre Photosammlung k?nnen Sie dank des integrierten Photo-Web-Servers genauso leicht in Ihrem Netzwerk oder auch über das Internet nutzen.
Das Thecus N299 l?sst sich über ein intuitives Web Interface konfigurieren. Das Anlegen von Benutzern und Freigaben wird damit zum Kinderspiel. Durch vielseite Konfigurationsm?glichkeiten lassen sich individuelle Zugriffsrechte für Benutzer und Ordner vergeben.
Techn. Daten
Hardware Specifications
Network Interfaces

WAN

1 x 10/100/1000 Mbps Ethernet Port

LAN

1 x 10/100/1000 Mbps Ethernet Port

Wireless (optional)

IEEE 802.11b/g AP mode (using approved USB Dongles)

Storage

HDD Bay

2 x 3.5" SATA HDD

HDD Capacity

80/120/160/200/250/300/400/500GB

USB External storage devices

USB 2.0 ports for easy storage expansion

System Information

LED Indicators

1 x Power LED 1 x System busy LED

2 x Network link + activity LED

2 x Hard drive activity + fail LED

1 x USB LED

Buzzer

System alert

Outlook

Dimension

160 x 85 x 200 mm (H x W x D)

Security

Kensington Lock

Power Supply

External Adapter

External power adapter,

Input: AC 100 ~ 240 Volt, 50/60 Hz

Output: DC 12V

Environment specifications

Temperature

5℃ to 40℃(Operating)

Humidity

0 ~ 80% R.H. non-condensing

Safety and Environment

CE, FCC, BSMI, C-Tick, VCCI, RoHS Compliant
Software Specifications
Networking

Configuration

Fixed IP address, Dynamic IP address, PPPoE, DDNS

Network File Protocols

Microsoft Networks (CIFS/SMB)

Apple Filing Protocol (AFP 3)

Network File System (NFS v3)

File Transfer Protocol (FTP)

WebDisk through HTTP/HTTPS

Network Client Type

Microsoft Windows NT / 2000 / XP / 2003 / Vista

Unix / Linux / BSD

MAC OS X, OS 9, OS 8.6

DHCP Server

Assigning IP address on LAN/WLAN ports

Print Server

Network printing through Internet Printing Protocol (IPP)

Download Manager

Support BT, FTP, HTTP schedule download

Disk management

RAID

RAID 0, 1 and JBOD

Power Management

Fan

Thermal controlled system fan

Multimedia Support

Media Server

Support uPnP AV streaming protocol

iTunes Server

Supported File Types: AAC, MP3, WAV

Photo Web Server

Supported File Types: GIF, JPG (JPEG), BMP, PNG

Support EXIF display

Support slide show

Simple Surveillance Server

Support Image capture, preview, schedule

Support image size : 160 x 120, 320 x 240, 640 x 480

Share Management

User Authentication

Supports built-in user accounts and groups

Folder Management

Share Folder Level Permission

Public Folder

Permission management

Read, Write or Deny options on individual users or groups

File System

File System Type

Journaling File System

Language Support

Multilingual Support

Administration

Web-based Administration

Multilingual Support

English, French, German, Italian, Spanish, Traditional Chinese, Simplified Chinese, Korean and Japanese

Setup Wizard

Windows based device discovery and setup utility program

Email Notification

Send system message via Email to specified Email accounts
*For supported USB dongles, please contact [email protected]
Inhalt des Lieferkartons
| | |
| --- | --- |
| | |
| Power Cord | Warranty Card |