Linux NAS | KMU - Rack-Montage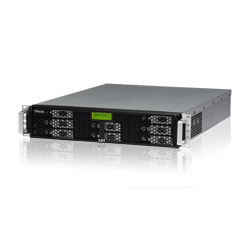 N8800SAS
The Ultimate 2U NAS Server with Core 2 Duo
Rezensionen
2009-10-09
Media: IT PRO | Country: UK

?Das N8800SAS ist zweifelsohne das schnellste SMB-NAS, das wir je gesehen haben; es erbrachte extrem gute Ergebnisse bei der Dateifreigabe. Die Fehlertoleranz ist erstaunlich und mit acht Hot-Swapping-f?higen Laufwerken bietet das Ger?t enorme Speicherkapazit?t."
2009-07-15
Media: PC PRO | Country: UK

?Der N8800 mit 8 TB punktete aufgrund der tollen Werte und hohen Geschwindigkeit in vielen Bereich. Die unz?hligen Multimediafunktionen werden Unternehmen nicht besonders beeindrucken, doch als Rackmount-NAS mit sehr gro?er Kapazit?t und IP-SAN-Ger?t steckt der N8800 viele Konkurrenten in die Tasche."
more...
Merkmale
Blazing Dual Core Performance
The N8800SAS comes loaded with Intel® Core 2 Duo technology for breakthrough speed and performance. With the N8800SAS, business users can enjoy increased concurrent connections and lightning-quick system response.

Unique Dual DOM? Design
In business, having access to mission-critical data at all times is crucial. The N8800SAS is equipped with a dual Disk On Module (DOM) design to ensure flawless operation and maximum uptime.

Serial Attached SCSI Support
Enter a new generation of data performance with the N8800SAS. This eight bay wonder provides full Serial Attached SCSI (SAS) hard disk support for ultra-fast data throughput.

Rock-Solid Reliability
Every business needs to be able to rely on their data. For these users, the N8800SAS and its multiple RAID modes make sure that data is protected at all times.

Maximum Flexibility
To allow for integration in to virtually any corporate network, system administrators can choose among several file systems, including Ext3, XFS, and ZFS. Also, the N8800SAS provides compatibility with iSCSI initiators for excellent data transfer speeds.
übersicht
Thecus® Technology erweitert stets die Grenzen dessen, was Kunden von einem NAS-Speicher erwarten. Nach Innovationen strebend, ver?ffentlichte Thecus® zahlreiche Weltneuheiten; und Thecus® ist stolz, heute seine neuste Errungenschaft anzukündigen: das N8800SAS – das weltweit ersten Rackmount-NAS mit SAS-Festplattenunterstützung zur Erzielung optimaler Datenleistung.
Speziell für Unternehmen entwickelt, die sich nach hoher Leistung und zugleich einer kosteneffektiven Speicherplattform umsehen, ist das N8800SAS - ein 2U-Rackmount-NAS – mit zahlreichen hochmodernen Technologien ausgestattet. Besonders anzumerken ist die F?higkeit des Ger?tes, bis zu acht SATA- oder SAS(Serial Attached SCSI)-Festplatten aufzunehmen. Mit dem N8800SAS k?nnen Firmenanwender die Geschwindigkeit und Zuverl?ssigkeit von SAS zu einem Bruchteil der Kosten konkurrierender Rachmount-L?sungen genie?en. Das Herzstück des N8800SAS sind ein Intel® Core-2-Duo-Prozessor und DDR2-Speicher zur blitzschnellen Systemreaktion und der Unterstützung mehr gleichzeitiger Verbindungen. Falls eine noch gr??ere Speicherkapazit?t erforderlich ist, kann das N8800SAS ganz einfach mit anderen N8800SAS-Ger?ten erweitert werden (stapelbar); dadurch k?nnen Unternehmen ihren Speicherplatz jederzeit problemlos ausbauen.
Natürlich ist die Leistung nur eine Seite der Gleichung. In einer Firmenumgebung sind Zuverl?ssigkeit und Betriebszeit unerl?sslich. Zum Schutz der Daten bietet das N8800SAS mehrere RAID-Modi, u. a. RAID 0, 1, 5, 6, 10 und JBOD; zudem ist es den Administratoren sogar m?glich, mehrere RAID-Laufwerke auf demselben Ger?t zu konfigurieren und so noch mehr Flexibilit?t zu gew?hrleisten. Sollten ?nderungen erforderlich werden, verfügt das N8800SAS zur Gew?hrleistung eines unterbrechungsfreien Dienstes über eine Online-RAID-Migration und -Erweiterung sowie automatische Wiederherstellung, Hot-Swapping und Hot-Spare. Zur Erzielung einer maximalen Betriebszeit ist das N8800SAS mit einem einzigartigen Dual-DOM-Design, einem redundanten 450 W-Netzteil und dualen Gigabit Ethernet-Anschlüssen mit 802.3ad-Verbindungsaggregation, Lastausgleich und Ausfallsicherung ausgestattet. Daten k?nnen mittels FarStone Drive Clone PRO 5.0 oder der propriet?ren Nsync-Fernreplikation von Thecus®; zur Sicherstellung absoluter Datensicherheit verfügt das N8800SAS sogar über eine AES-RAID-Laufwerksverschlüsselung (256-bit).
Zu guter Letzt bietet das N8800SAS konkurrenzlose Flexibilit?t. Mehrere ausw?hlbare Dateisysteme, inklusive Ext3, XFS und ZFS, und die Kompatibilit?t mit Windows, Mac OS und Linux erm?glichen eine problemlose Integration des N8800SAS in nahezu jedes Unternehmensnetzwerk. Zudem ist das N8800SAS mit einer Vielzahl praktischer Merkmale ausgestattet, u. a. mit einer Medienserver-, Download-Manager-, Web-Server-Funktion, CD-/DVD-ISO-Abbildfreigabe, und kann sogar als IP-Cam-überwartungsserver genutzt werden.
?"Durch die Unterstützung der aktuellsten SAS-Festplattentechnologie dehnt das N8800SAS wieder einmal die Grenzen gewerblich genutzter NAS-Ger?te auf," sagte Florence Shih, Gesch?ftsführer von Thecus® Technology. "Ausgestattet mit einer Vielzahl innovativer Merkmale, einer knallharten Leistung und felsenfester Zuverl?ssigkeit ist das N8800SAS bestens für Ihre Unternehmenszwecke gewappnet.."?
Techn. Daten
1.Hardware Platform
Item

Spec

Processor

Intel Core 2 Duo Technology

SATA/SAS device

8 x SATA/SAS for internal, 1 x eSATA for external

System Memory

4GB DDR2 SDRAM

LAN Interface (PCI-e)

RJ-45x2 : 10/100/1000 BASE-TX Auto MDI/MDI-X WOL supported

USB Interface

USB 2.0 host port x4(Front x2, Back x2) (A Type)

LCM Module

Displays system status and information

LED indicator

Power:(Yellow)
System alert : Redundant power or system fan failure(Red)
HDD1-8 Activity/Fail(Green/Red)

PCI-e x 1 slot

2

Power supply

450W Redundant Power Supply

Disk interface

SATA/SAS x8 via backplane

Thermal/Fan control

Thermal sensor on processor temperature

System Fan

4 x Hot Swappable

Buttons
Power button(Front, power down controlled by S/W)
LCM button (ENT,ESC,UP, DOWN)
System reset button
Mute button while system alert

RS232

1 (For UPS)

Environment

Temperature : 5°C to 40°C
Humidity : 0 ~ 80 % R.H. (Non-condensing)

Dimension

Rack Mount
2. Software Functions
RAID

RAID modes

RAID 0, 1, 5, 6,10,JBOD

Auto-rebuild

Supported

Hot-swap

Supported

Hot spare

Supported

SMART Info

Supported

SMART Test

Supported

On line RAID Migration

Supported

On line RAID Expansion

Supported

RAID Volume Encryption

AES256bit


Disk

Power management

Spins down while idle time setup (SATA HDD only)

Bad Block Scan

Supported

Roaming

Support roaming to other N8800SAS

Network

Configuration

Fixed IP Address, Dynamic IP Address,

IP sharing mode

Can be enabled/disabled

Transport Protocols

TCP/IP/Appletalk

File Protocols

SMB/CIFS, HTTP/HTTPS, FTP, NFS v3, AFP

Link Aggregation

802.3ad, load balance and fail over

Data Access

Client OS support

Windows XP and after
Windows Server 2003 and after
UNIX/Linux
Mac OS X

WebDisk

Web-based file access

FTP

Build in FTP Server with bandwidth control

Secure FTP

Build in secure FTP Server with bandwidth control

Download Manager

HTTP / FTP / BT / eMule

Printer Server (IPP)

Supports USB printers
Supports IPP various printers
Client can manage print tasks (List/Delete) via Web user interface

Data Backup

Client schedule incremental data backup

Acronis True image(OEM version)

Client system Disaster Recovery

Acronis True image(OEM version)

NAS Remote Replication

Via Thecus proprietary Nsync

USB device copy to N7700SAS

Through LCM to control

Snapshot

Supported

Bi-directional USB Copy

Supported

Block Level Access

iSCSI Target

Support Microsoft/Mac/Linux Initiator

iSCSI initiator

For stackable with N5200/1U4500/N5500/N7700/N8800

iSCSI Thin Provisioning

Supported

Power management

Schedule power on/off

Supported

Volume management

Multiple RAID

Supported

Multiple file system selectable

Ext3 / XFS / ZFS

Multimedia Support

iTunes Server

Supported File Types: AAC, MP3 w/ ID3 tag, WAV

Photo Web Server

Supported File Types: GIF, JPG (JPEG), BMP, PNG
Support EXIF display
Support slide show

Media server

Support uPnP AV streaming protocol

User Authentication

Local User

Supports built-in user accounts

Local Group

Supports built-in user groups

Windows NT/ADS

Supported

File System

Type

Journaling File System

Capacity

16TB (XFS,ZFS) / 8TB (ext3) per volume

Language Support

Unicode Support

Authorization (ACL)

Read, Write or Deny options on individual users or groups for share and sub-folders

Administration

Multi-Lingual Web-based administration (Default auto)

Web-based server management Interface Supports English, Traditional Chinese, Simplified Chinese, Japanese, Korean, French, German, Italian, Spanish, Russian and Polish

Utility Program

MS Windows Setup Wizard, Supports Windows 7/2000/XP/2003/Vista
Mac setup Wizard (OSX only)

Email notification

Sends system messages via Email to system administrator

SNMP trap

System information trap out

Others

Dual DOM

Supported

Web Disk

Supported

Recycled bin

Supported

Web Server (Module)

Supported

ISO Mount

Supported

User module interface

Supported

IP CAM surveillance Server (Module)

Supportes up to 5 IP CAM

Inhalt des Lieferkartons
| | | | |
| --- | --- | --- | --- |
| | | | |
| Accessory Bag(with key) | Ethernet Cable | Power Cord | Acronis True Image DVD |
| | | | |
| Universal CD | QIG | HDD Compatibility List Card | Fixed Shelves |
How To Guides