N2200EVO
Evolve Your Digital Home
Merkmale
DLNA-Medienserver
NAS von Thecus eignen sich hervorragend als Medienserver und speichern mühelos riesige Bibliotheken von Musik, Fotos und Filmen. Der DLNA-Medienserver erm?glicht es Ihnen, all Ihre Multimedia-Dateien auf Ihrem TV-Ger?t, Ihrer Stereoanlage oder Ihrem mobilen Ger?t wiederzugeben.

Acronis True Image
Mit der modernen Sicherungssoftware von Acronis bringt Thecus das Beste vom Besten aufs Tablett. Sichern Sie all Ihre Daten mit einem Mausklick oder w?hlen Sie nur die wichtigsten Dateien aus. Acronis wartet mit einer eleganten, benutzerfreundlichen Bedienoberfl?che und umfangreichen Funktionen zum Schutz Ihrer Daten auf.

Rsync
Die Sicherung Ihrer Daten ist sehr wichtig; und jeder hat spezifische Anforderungen, wenn es um seinen Speicher geht. Thecus' Rsync-Funktionalit?t bietet Ihnen mit der M?glichkeit zur Fernsicherung, einem vielseitigen Zeitplaner und der Stabilit?t Linux-basierter Datenübertragung gro?artige Flexibilit?t.

Energy Saving
Die Energie, die für den Betrieb Ihres NAS erforderlich ist, kann erheblich zu den Betriebskosten beitragen. Senken Sie Ihre Betriebskosten mit den erweiterten Energieverwaltungsfunktionen des N2200EVO. Durch zeitgesteuertes Ein- und Ausschalten k?nnen Sie festlegen, dass Ihr N2200EVO nur zu bestimmten Zeiten in Betrieb sein soll. Und dank automatischer Drehzahlreduzierung der Festplatten und optimiertem, stromsparendem Design ist das N2200EVO generell ein echter Geizkragen, wenn es um den Stromverbrauch geht.

AJAX
Die Inbetriebnahme Ihres N2200EVO soll keine Mühe bereiten – und dafür sorgt der Simple Setup Wizard, ein Assistent für die einfache Einrichtung, der Sie durch den gesamten Konfigurationsvorgang führt. Und danach l?sst sich das N2200EVO dank der neuen Benutzeroberfl?che auf AJAX-Basis einfach und problemlos bedienen.
übersicht
Building on the success of the popular N2200PLUS, Thecus is releasing a new 2-bay model aimed for home use. The N2200EVO provides users good speed and great value, with transfer rates over 50MB/s and a host of backup. Thus, multimedia functions makes it easy to keep data safe while creating movies, music, and photo hub for your home.
The N2200EVO's dual-core Cavium processor is powerful enough to handle large backups, web hosting, photo serving, multiple users, and even streaming HD video. Although it is ideally suited for home use, with a maximum capacity of 6TB it can also easily fit into a small business environment to act as a central cloud storage or backup server among many other things. To cut down its carbon footprint as well as save on electric bills, the dual-core Cavium has extremely low power usage and with scheduled power on/off, the N2200EVO will only be on when it needs to be.
- Thecus Firmware includes support for all the newest advances: XFS, 3TB HDD, SATAIII HDD, an open source module system, and more.
- The powerful Acronis Backup software makes backups easy and keeps your data safe!
- A wide array of free modules are available from www.thecus.com or the Thecus UI, including:
a. A download manager for BitTorrent, eMule and HTTP. You don't even need to switch on your computer!
b. The brand new Piczza! photo server, which allows you to share your pictures with friends and family in a smart and easy-to-use interface.
c. A Web Disk module to upload and download data simply and easily to and from your NAS.
"Home users are educating themselves and learning of the importance of data backup and also the fun of a home media center. The N2200EVO fulfills these specs among many others extremely well and does it all at a great value," said Florence Shih, Thecus Technology General Manager. "The dual-core Cavium also makes sure you get good performance without testing your electricity budget."
"Cavium is delighted to be working with Thecus in introducing the revolutionary 2-Bay NAS product to the market," says Douglas Cheung, Director of Marketing for Consumer and Home Networking at Cavium. "Our ECONA family of dual-core System-On-Chips (SoCs) deliver best–in-class NAS performance with the lowest power consumption. N2200EVO leverages these attributes of ECONA SoC to deliver an energy efficient 2-bay solution without compromising the performance or cost targets."
Techn. Daten
1.Hardware-Plattform
Element
Spezifikation
Prozessor
Dual-core Cavium SoC Processor
Systemspeicher
256MB DDR2
LAN-Schnittstelle
RJ-45x2: 10/100/1000 BASE-TX Auto MDI/MDI-X
USB-Schnittstelle
USB 2.0 Host-Port x2 (vorne x1)
USB 2.0 target port(hinten x1)
Disk-Schnittstelle
2 x SATA intern

Stromversorgung
Externer Netzadapter
Thermalsteuerung
Thermalsensor an Festplatten
Systemtemperaturkontrolle

Summer
Einstellbarer Frequenzalarm
Tasten
Ein-/Austaste (Vorderseite, Abschaltung über Benutzerschnittstelle gesteuert)
USB-Kopie-Taste
Reset-Taste

Betriebsumgebung
Temperatur: 5°C bis 40°C
Feuchtigkeit: 0 ~ 80 % rel. Feuchtigkeit (nicht kondensierend)
Geh?use
Metallgeh?use
Abmessungen (H x B x T)
213.59 x 115.17 x 139.2 (mm)
Gewicht
13Kgs

2. Software-Funktionen
RAID
RAID-Modi
RAID 0, 1, JBOD
Autom. Wiederaufbau
wird unterstützt
Hot-swap
wird unterstützt
Disk
Energieverwaltung
Drehzahlreduzierung bei Unt?tigkeit verfügbar
Bad-Block-Scanning
wird unterstützt
SMART-Info
wird unterstützt
Netzwerk
Konfiguration
Feste IP-Adresse, dynamische IP-Adresse
IP-Sharing-Modus
kann aktiviert/deaktiviert werden
Transportprotokolle
TCP/IP/Appletalk
Dateiprotokolle
SMB/CIFS, HTTP/HTTPS, FTP, NFS, AFP
Datenzugriff
Unterstützte Client-Betriebssysteme
Windows XP and after
Windows Server 2003 and after
UNIX/Linux
Mac OS X
FTP
Integrierter FTP-Server mit Bandbreitenkontrolle
Secure FTP
Integrierter Secure FTP-Server mit Bandbreitensteuerung
TFTP
Benutzer kann Dateien mit TFTP-Programmen herunter- und hochladen.
Download-Manager
HTTP/FTP/BT/eMule (über DLM-Modul)
NZB-Download (über NZB-Modul)
Druckerserver (IPP)
Unterstützt USB-Drucker
Unterstützt eine Reihe von IPP-Druckern
Client kann Druckauftr?ge über die Web-Benutzerschnittstelle verwalten (auflisten/l?schen)

Datensicherung
Stufenweise Sicherung der Client-Daten
Acronis True Image (OEM)
Client-Systemnotfallwiederherstellung
Acronis True Image (OEM)
USB-Kopie
Kopiert Inhalte eines USB-Ger?ts auf das NAS (über USB-Kopiermodul)
NAS-Datensicherung auf externes USB-Ger?t
wird unterstützt (über USB-Sicherungsmodul)
Bidirektionale USB-Kopie
wird unterstützt (über USB-Kopiermodul)
Sicherungssoftware auf Client-Seite
Thecus Sicherungsdienstprogramm (Windows/Mac OS X)
Rsync Backup
Rsync spiegelt Daten zwischen zwei Systemen (über Rsync-Modul)
Mac OS X Time Machine
wird unterstützt
Volume-Management
Dateisystem
XFS
Multimedia-Support
iTunes-Server
Unterstützte Dateiarten: AAC, MP3 mit ID3-Tag, WAV
Piczza!? Webserver (über Modul)
Unterstützt GIF, JPG (JPEG), BMP, PNG
Unterstützt EXIF-Anzeige
Unterstützt Diaschaus

Medienserver
Unterstützt UPnP-AV-Streaming-Protokoll (über Twonkymedia-Modul)
Einfache überwachung
Unterstützt bis zu 2 IP-Kameras (über IP Cam-Modul)
Benutzerauthentifizierung
Lokaler Benutzer
Unterstützt integrierte Benutzerkonten
Lokale Gruppe
Unterstützt integrierte Benutzergruppen
Dateisystem
Typ
Journaling File System
Unterstützte Sprachen
Unicode-Unterstützung
Authorisierung
Zuweisung von Lese- und Schreibrechten sowie das Verweigern dieser für individuelle Benutzern und/oder Gruppen für Ordner und Unterordner
Administration
Benutzerschnittstelle
Webbasierte Benutzerschnittstelle unterstützt Englisch, Traditionelles Chinesisch, Vereinfachtes Chinesisch, Japanisch, Koreanisch, Franz?sisch, Deutsch, Italienisch, Spanisch, Russisch, und Polnisch.
Utility-Programm
MS Windows Setup-Assistent
unterstützt Windows 2000/XP/2003/Vista/7
Mac OS X Setup-Assistent

E-Mail-Benachrichtigungen
Sendet Systemmitteilungen per E-Mail an den Systemadministrator
Sonstiges
Papierkorb
wird unterstützt
Web Disk
wird unterstützt
ISO-Einbindung
wird unterstützt
Auto. Modulinstallation
Thecus' Modulserver stellt über die Benutzeroberfl?che automatisch die aktuellsten Module und Updates bereit.
Inhalt des Lieferkartons
| | | | |
| --- | --- | --- | --- |
| | | | |
| Accessory Bag | Ethernet Cable | Power Cord | Power Adaptor |
| | | | |
| Acronis True Image DVD | Universal CD | QIG | Warranty Card |
Thecus TV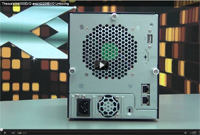 Thecus's N4100EVO and N2200EVO Unboxing
Thecus is well known in the market for always putting innovative hardware and state of the art technology on the table for a fair price in order to guarantee our customers the best value. Thecus's new N4100EVO NAS offer a broad range of advanced features and differentiate themselves with low-energy hardware for those who place strong value on cutting down their electricity costs and carbon footprint. This cost-effective hardware is the first four-bay NAS on the market to feature the speedy and efficient dual-core Cavium CPU to get the quick transfer speeds necessary for large backups and heavy use. The N4100EVO is designed to change the way you run your office, at home or at work.