Linux NAS | Enterprise - Tower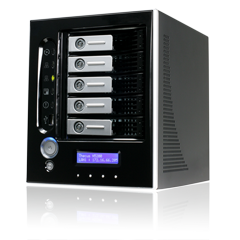 N5200PRO
Storage leader redefines the ultimate five-bay NAS device
Rezensionen
Merkmale
iSCSI Ready
N5200PRO is not only a file server, but it also supports iSCSI initiators. Your server can access N5200PRO as a direct-attached-storage over the LAN or Internet. There is no easier way to expand the capacity of your current application servers. All storage needs can be centrally managed and deployed. This brings ultimate flexibility to users.
Multiple RAID
N5200PRO supports multiple RAID volumes on one system. So, you can create RAID 0 for your non-critical data, and create RAID 5 for your mission-critical data. Create the RAID level protection depending on your needs.
Faster and Fastest
N5200PRO is equipped with a Low Voltage Intel® 1.5GHz Celeron® M Processor and 512MB DDR system memory, which provides even faster response and more concurrent connections. With its built-in Module compatibility, the N5200PRO is able to run more applications at the same time.
Superior Power Management
N5200PRO supports scheduled power on/off. With this feature, users can set what time the system turns on or off. This feature is a big plus for people who want to conserve energy. Wake-On-LAN enables users to remotely turn the system on without leaving their seat.
Complete Network Reliability (N5200B PRO only)
Because businesses depend on being able to retrieve their data, the N5200B PRO comes with both Load Balancing and Failover to optimize and ensure network traffic. With its Failover capability, the N5200PRO automatically switches to an alternate Ethernet connection should the first one be inaccessible. With these two functions, the N5200B PRO provides users with greater network reliability.
Easy Remote Backup
The N5200 is also equipped with Nsync, Thecus' remote data backup application. With Nsync, users can have the N5200PRO automatically upload files to an remote storage device at a designated time. What's more, if the remote device is another N5200PRO, the connection is made via a secure connection. Designed for SMBs for enhanced data protection, Nsync takes the guesswork out of data backup.
übersicht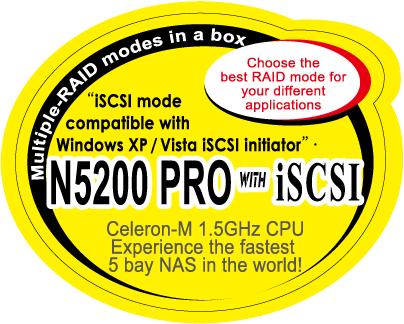 No stranger to innovation, Thecus Technology continues to redefine network storage. Thecus brought NAS storage to the home with the two-bay N2100, and powerful, flexible NAS storage to SMB's with the N5200. Today, Thecus is pleased to introduce its latest NAS device – the N5200PRO. With unparalleled performance and a bevy of useful features, the N5200PRO brings together Thecus' latest and greatest storage technologies for a NAS device unlike any other.
Designed for hardware enthusiasts and SMBs, the N5200PRO packs some serious power under the hood. Driving the N5200PRO is a Low Voltage Intel® Celeron® M Processor and 512MB of DDR memory, making the N5200PRO the fastest 5-bay NAS on the market. With five 3.5" SATA drive bays, the N5200PRO features up to 5TB of storage capacity, and support for multiple RAID levels allows multiple RAID volumes on a single system for optimal flexibility. To access data faster than ever before, the N5200PRO supports iSCSI?initiators, enabling users to access the N5200PRO as an iSCSI?target device over the Internet or LAN. With these features, users will experience high system performance, flexibility, and data reliability. ??
But that's not all. The N5200PRO offers superior power management features with scheduled power on/off and Wake-on-LAN. Users are able to have the system turn on and off to conserve energy and lower overall cost of ownership. To back up data, the N5200 comes complete with Thecus' suite of backup utilities, including the Thecus Backup Utility and Nsync, Thecus' remote backup solution. And because the network has to be reliable, Thecus offers two options for users. With the built-in LCD screen, the N5200PRO is a breeze to setup and administer, and an eSATA port allows for easy storage expansion. Users that need load balancing and failover can choose the N5200B PRO, while users that prefer a built-in 4-port Gigabit switch can opt for the N5200BR PRO. No matter which is chosen users can look forward to Thecus' signature performance, reliability, and ease-of-use.
"We've taken the very best Thecus technologies and included them into the N5200PRO,"?says Thecus General Manager Florence Shih. "With a long list of new features and improvements, we're confident that the N5200PRO will impress hardware enthusiasts and SMBs the world over."
?
| | | |
| --- | --- | --- |
| SKU # | Description | Availability |
| N5200B PRO | 2 x Gigabit Ethernet | Now |
| N5200BR PRO | 1 x Gigabit Ethernet, 4-port Gigabit switch | Now |
?
Techn. Daten
N5200PRO Specifications
*PDC/AD support: Works as a client member in an Microsoft NT 4.0 domain/Active Directory domain, allowing the N5200 to utilize the domain users and groups setting for authentication to the system and authorization to the share folders.
Model

N5200BPRO

N5200BR PRO

HDDs

5 x 3.5" SATA II HDD, Hot-swappable

eSATA port

1 x eSATA connector for capacity expansion

USB ports

3 x USB A type (Host mode)
1 x USB B type (Client mode)

Ethernet ports

2 x Gigabit RJ-45 Connector

1 x Gigabit RJ-45 Connector

n/a

4 port Gigabit switch

Link aggregation

802.3ad based Failover, Load balancing

n/a

LCD Control Panel

For basic configurations and status display

Network File Protocols

Microsoft Networks (CIFS/SMB)
Apple Filing Protocol (AFP 3)
Network File System (NFS v3)
File Transfer Protocol (FTP)
Hyper Text Transfer Protocol (HTTP)
Secure Hyper Text Transfer Protocol (HTTPs)

Authentication

Microsoft NT Domain Controller (PDC)*
Microsoft Windows Active Directory 2003 Authentication (AD)*

Network Client Type

Microsoft Windows NT/2000/XP/2003
Unix/Linux/BSD
MAC OS X, OS 9, OS 8.6

Network Configuration

Fixed IP Address
Dynamic IP Address

Disk Management

Power Management (Disk idle spin-down)
Disk Status Monitoring (S.M.A.R.T.)

RAID

RAID 0, 1, 5, 6, 10, and JBOD
Supports multiple RAID modes – Users can create multiple RAIDs on one system.
Auto Rebuild
Hot Swappable
Hot Spare
Disk Roaming
RAID Level Migration
RAID Expansion
Disk Capacity Supported :
80/120/160/200/250/300/400/500/750/1000 GB

iSCSI Target

Supports Microsoft block level access

Folder Management

Share Folder Level Permission
Public Folder

Quota Management

Share Folder Quota Control

Backup

Thecus Backup Utility
(Microsoft Windows XP/2000 /MAC OS X)
Thecus Nsync

System Management

Web GUI
Multilingual Support (English, French, German, Italian, Traditional Chinese, Simplified Chinese, Japanese, Korean, Spanish)
NTP supported
Wake-On-LAN
Schedule Power On/Off – For better power management

Event Notification

Email Notification
Buzzer Notification
LCD

Media server

Supports uPnP AV streaming protocol
Works with DLNA-certified players

Supported USB Devices

USB Printer
External HDD/Flash disk

Setup Utility

Windows 2000 / XP / 2003
MAC OS X

Safety and Environment

CE, FCC, BSMI, C-Tick, RoHS Compliant

Dimension

230 x 190 x 230 mm (H x W x D)

Physical

Lockable Disk Tray

Operating Environment

0 - 40 ℃< /st1:chmetcnv>
20 – 85﹪Relative Humidity (non-condensing)

Power Supply

Server-rated AC Power Supply
100/220VAC, 50/60 Hz, Auto detect

Sound Pressure Level
How To Guides